Outdoor vs Indoor Concerts – which is better?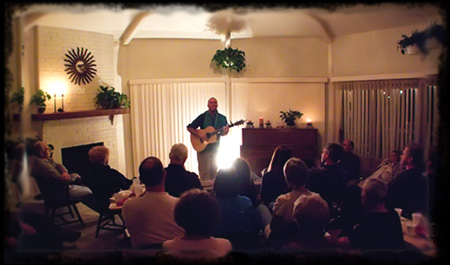 One of the most appealing things about house concerts is the cozy atmosphere that living rooms provide. That said, there are many hosts who prefer to host in gardens, backyards, and patios when possible.
The first trade-off to consider is weather. No artist (or host) wants to have a show canceled due to bad weather, so a backup plan (indoors) is almost always necessary. If you live in a seasonally dry/comfortable area, like California, you can get away with more outdoor events.
The second trade-off is intimacy. Some people do have a cozy garden area with natural barriers or walls to keep people close to the performer, but in general it isn't AS cosy as an indoor show. An outdoor show almost always requires a sound system since you don't get the acoustic benefit of walls to keep the sound in.
The third trade-off is safety. This can be a very minor point, but you do have to watch for people falling into a pool, tripping over tree roots, etc. Most homes have additional concerns when inviting guests into the yard.
Lastly, an outdoor show requires friendlier neighbors. Generally, classical or folk and acoustic concerts are not very loud, and most residential areas have relaxed "noise" standards for events that take place at reasonable hours. That said, if you are hosting a band, you should be checking with your neighbors and inviting them to attend. If Alice Cooper lives next door, you're probably O.K.
Outdoor shows can have their own delightfulness when the weather is perfect, especially if the audience is attentive and close. Compared to a living room show,  a backyard event can typically accommodate a larger band and a larger audience, which is often the main reason a host will choose to indoor shows.
As noted above, indoor shows have more advantages, especially for hosts who can't draw a large crowd. There's something very satisfying about having a "full house," and choosing a limited space can makes it easier to create that feeling of a successful event.