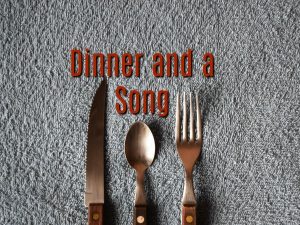 DinnerAndSong – Having it Your Way
It hasn't taken long, but there's already more than one type of DinnerAndSong event. And these variations are exciting.  They offer options.  So let's drill down on this.
At the core of a mini-concert are two elements that you can't do without:
the music
the meet-and-greet afterwards
The music is usually an unplugged 35-minute concert, an extraordinary personal experience for the guests and artist alike.
The meet-and-greet is 15 minutes of connecting and selling signed CDs.  Warm, efficient, opening doors for follow-up interaction.
So there's your core.  50 minutes.
What happens beforethe music is what creates those cool options, and it's what governs the feel and the length of your mini-concert.  Here are a couple of options:
dinner & song– our flagship event.  Add 40 minutes before the music for a casual meal for 6-10 guests and the artist.  Sweet.  Guests get to know the artist in a unique way.  $10 donation.  Total time = 90 minutes.
dessert & song– shorter, and much sweeter. Sugar everywhere. Add just 25 minutes to the front end for grazing from the dessert table.  6-20 guests.  Afternoon or after dinner.  $10 donation.  Total time = 75 minutes.
Ah, are the lightbulbs going off in your head now?  Uh huh.
So, how would you rank these options as far as their appeal for your situation? Have another variation in mind?  Leave a comment!
Next blog:  Minimize your concert prep.  Stay tuned!