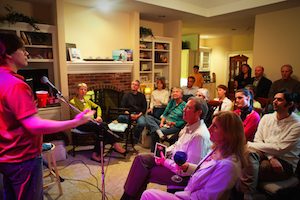 Welcome to our house concert.
Tonight you will enjoy a listening atmosphere. Please silence your phones, get comfortable, and we'll take a break in 40 minutes so you can freshen up and get refills.
Artist Intro
Peppino D'Agostino has performed in more than 30 countries, at prestigious international festivals and has played in some of the world's most important theaters. He has shared the stage with Tommy Emmanuel, Leo Kottke, and now, me! Recognized as "the guitarist's guitarist" by Acoustic Guitar magazine and described as "a giant of the acoustic guitar" by the San Diego Reader, D'Agostino was voted Best Acoustic Guitarist by readers of Guitar Player magazine.
Steal this part: Adjust it, make it yours.
As a kid, music was the soundtrack of my life. I remember the first song I slow-danced to. I remember the song I cranked up every morning as I drove into my high school parking lot. Music connects us to our experiences in a lasting way.
But songs were rarely a memory of a live performance. When I did hear my musical heroes on stage, I certainly didn't get the opportunity to hear their personal stories from 10 feet away.
But you can do that tonight. That's what house concerts do. They bring us closer to the makers of music. And when you go to house concerts, and pick up CDs as souvenirs, your experience of music will change.
You see, whenever I go on a road trip, I don't just grab a stack of CDs… I grab a stack of memories! I put my friends in the CD player and they take me back to the last time we saw each other.
It's time travel, powered by music.
–
So tonight let's take a trip with Peppino D'Agostino! [applause…]