Press Release: Listening Room Festival 2017 (#LRFest17)
For Immediate Release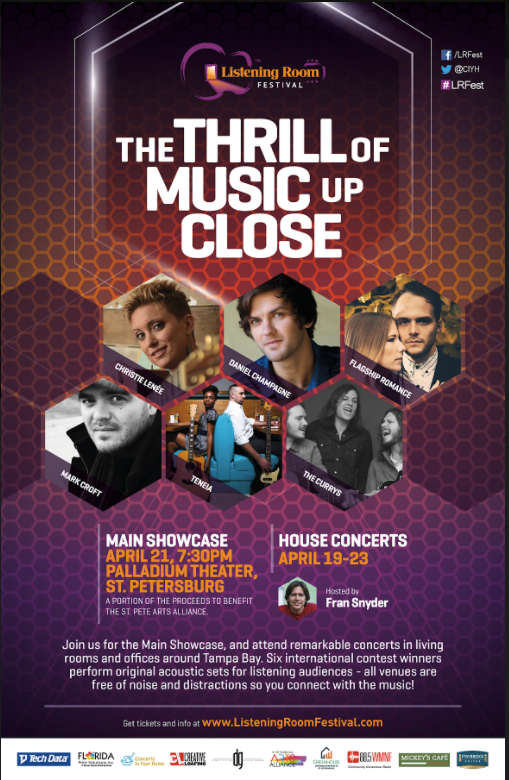 Florida "House Concert" Festival Connects Fans from All Over the World
The 6th Annual Listening Room Festival invites house concert presenters, artists and fans to join in this year's festivities. Music-lovers from around the globe are traveling to St. Petersburg, FL to enjoy the house concerts, showcase, and planned group activities from April 19-23, 2017.
Six international contest winners will play the Main Showcase (April 21) at the Palladium Theater in St. Petersburg, as well as house concerts in the surrounding region. This year's artists are The Currys, Teneia, Mark Croft, Flagship Romance, Daniel Champagne, and Christie Lenée.
House concerts are the core of the festival. Music fans volunteer to host living room concerts, and invite friends to attend an up-close-and-personal show by a professional touring artist. Attendees are asked to make a suggested donation of $10-20 per person to the performers.
The main showcase at the Palladium Theater features all six acts and is not to be missed.  In addition, this year's festival includes group activities and workshops to educate and inspire fans to join the growing house concert movement.
2017 Festival Schedule
Schedule is subject to change. Please register for the festival to receive updates.
Wednesday April 19
Thursday April 20
Friday April 21
Saturday April 22
Sunday April 23
---
The festival is presented by ConcertsInYourHome.com, part of The Listening Room Network.
More information and tickets are available through ListeningRoomFestival.com.
About the Listening Room Network:
Listening Room Network (LRN) creates and nurtures opportunities that pay artists to perform in a listening environment while bringing communities together with a renewed passion for live music. LRN and its signature websites (ConcertsInYourHome.com, OfficeConcerts.com) are leading innovators in the live music industry.
Contact/Press Photos: 
Fran Snyder 727-280-6208, [email protected]Network.com
Website: www.ListeningRoomFestival.com
Free house concert guide: Download (PDF)
HighRes Press photos: Office Concerts, House Concerts, Fran Snyder, and Festival Finale.