Artists: The Power of Listing Your Avails
Every month, we look at the stats from our monthly newsletter, to see what is of most interest to our 6000 subscribers. And every month one of the most clicked links is our "avails button." In the section where we list our new and renewing artists, there's a blue button that says "who is looking to tour in your area?"
Are you showing up in these pages where people are looking?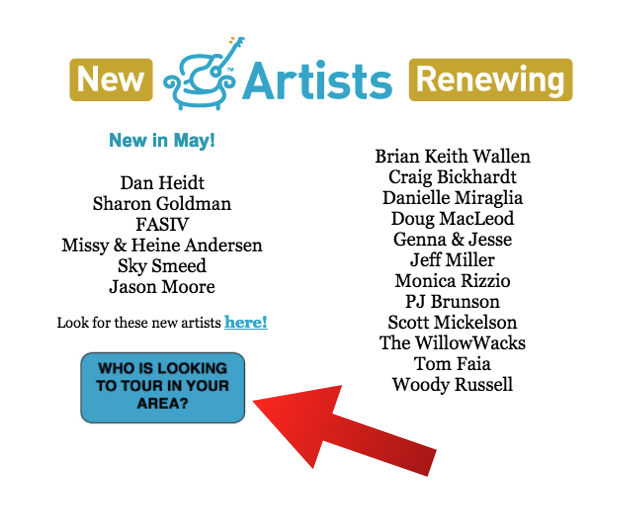 Over the past six years, we've continued to create more activity around avails, so how exactly to they work?
Artists login to their profile, and go to their Avails tab. There are five avails* that allow you to list key states, provinces or countries that you are looking to play. For example, you could select FL, GA, and SC (3 states), the key month/date, and add a short phrase to describe what you are looking for, like "Playing southeast this fall, looking for Atlanta show in mid Oct."
This (and your other 4 avails) will show up in several places at CIYH and LRN – your artist profile, and the avails pages for each state, province or country that you list.
Then what?
The avails pages (one for each state, province, and country) list avails by month, which makes it easy for someone to find artists looking to play in their region on a particular month. On that page, they'll see your picture, sample track, and a link to your full page profile, which also has a button for them to contact you.
Who sees the avails?
New hosts and venues: Many new hosts and venues are curious about the artists in our network, especially if they aren't deeply connected to their local or regional scene.
Pro-active hosts and venues: There are a number of hosts who like to see their options rather than waiting for individual artists to find them and reach out.
Bookers outside our network: Since the avails are publicly viewable, artists sometimes get inquiries from outside our membership.
Login and make sure your avails are up to date.
Many pages on the website guide users to have a look at avails, and if you aren't listing yours, you are likely to be missing some opportunities. Avails are a great way to make the site work for you when you are away from your computer. Use them.
*all artists are given 5 updatable avails with their membership. More can be purchased for acts who want to appear in more places on the site.