2017 Artists of the Year – ConcertsInYourHome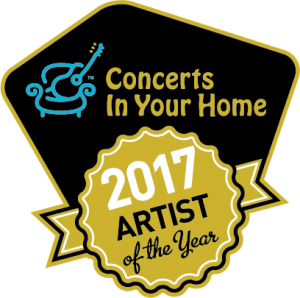 Each year, we recognize three talented acts for their successful use of the site, and the reviews and recommendations we've received from our host community. Touring is a difficult sport, and these acts have demonstrated not just talent, but persistence, kindness, and a willingness to go where the opportunities are. Congrats!
2017 Artists of the Year!
Honorable Mentions
These artists had a great year with us as well!
Rupert Wates, Danika & The Jeb, Matt Bednarsky, The Currys, Kelley McRae, Escaping Pavement, Woody Russell, and Brian Keith Wallen.
Note: Artists of the Year are not eligible to win for the following two years.