2016 Artists of the Year – Concerts In Your Home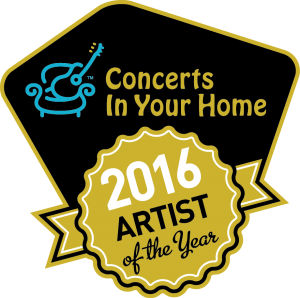 Each year, we recognize three talented acts for their successful use of the site, and the reviews and recommendations we've received from our host community. Touring is a difficult sport, and these acts have demonstrated not just talent, but persistence, kindness, and a willingness to go where the opportunities are. Congrats!
2016 Artists of the Year!
Honorable Mentions
These artists had a great year with us as well!
Flagship Romance, Dan Frechette and Laurel Thomsen, C. Daniel Boling, Woody Russell, Johnny Azari, Keith Rea, Chasing Lovely, and Annalise Emerick.
Note: Artists of the Year are not eligible to win for the following two years.