Proper Care and Feeding of Your Artists
Should the artist expect dinner at the house concert or venue? Certainly, this should be confirmed by phone a few days before the show, but why not make it clear in your host/venue profile?
For most house concerts and venues, feeding the artist before or after the show is expected. Depending on their arrival time, artists may prefer to skip dinner or just snack before the show, and opt for a more relaxed meal after the guests have gone.
With an early arrival time, it can be quite nice to have dinner (host, artist, and maybe a few special guests) together. This takes extra effort and planning, and if it's too much for the host to take on they should simply say so.
Through ConcertsInYourHome.com, there's an easy place to put this information when you list your show. It's the confirmation page (step 3). Read the "Accommodations and Additional Info" in the example below.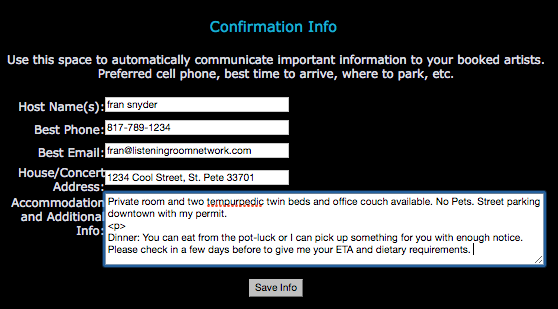 This confirmation page is available to artists at anytime for reference. All they have to do is login and click on your show on their Start Page to see this information at the top of the webflyer.
Hectic travel schedules often lead to artists forgetting to confirm these details. Hosts can be pro-active to make sure food will not be a stressful or disappointing part of the artist's experience.
TIP: Make it easy. Choose a go-to meal to offer in your accommodations. Something easy that you make all the time. Artists can accept, decline, or supplement.
Artists are capable of picking up some food before they arrive at your home. It's not ideal, but it's not a big deal if you can warn them ahead of time. Please have some suggestions for them, and include some gluten-free and veggie options if possible. It's best to send these options in an email.
Some hosts really cherish the opportunity to sit down with the artist for a meal before the show. It doesn't always work with the schedule of the artist and host, but when it does, a home-cooked meal for a traveling artist is a lovely treat.