Can Performers Help Me Promote My House Concerts?
Performers are public figures, so their websites and email lists are for public promotion. If your concert is listed on their website, it can be considered a public event. [We've seen a house concert shut down by local government for this. Officials claimed it was a public event because it was listed on the artist's website, with the host's email address. Many artists/agents are unaware of this and they will list your info on their website unless you tell them not to.]
Hosts find it tempting to encourage artists help fill seats. Artists are often happy to help (if they can) by emailing their fans in the area, because that can create a bigger show and increase donations. The challenge is they don't personally know most people on their list, and inviting unknown fans to your home poses TWO types of risks – 1. making your event public, and 2. having un-vetted strangers in your home.
It's important to take a sober look at the risks you take when you have any gathering in your home. People can damage items, steal, or even fall and hurt themselves. These problems are rare and could even be trivial. But there is always a chance it could be serious. That's why we advocate for the safest practices, and encourage you to personally connect (online, by phone, or even in person) with people before you invite them in your home.
Can performers help at all?
Here's what we recommend:
If the artist wants to list your house concert on their website, tell them to list it like this:

Notice that the host's email address, phone number, or street address are not publicly listed. The reader would have to use the email form on the artist website to ask for an introduction.
Now, the artist can vet (approve) the fan and introduce them to you, the host, like this: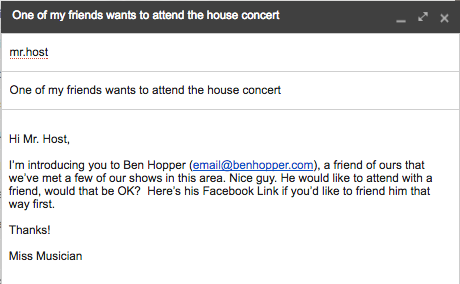 Of course, the decision to invite Ben is up to you. Friending him on Facebook or exchanging a few emails begins a relationship that takes it beyond "someone who just asked if they could come." You've been introduced (by the band) and you've communicated, and you've added them to your guest list.
Again, there's no case law on this, but doesn't this sound safer than having musicians invite every local bar patron they've played for?
This is an excerpt from the new house concert guide from Fran Snyder and ConcertsInYourHome.com – subscribe to this blog or to our monthly newsletter to be notified when the guide is published.