Southeast House Concerts, Workshops, and Gatherings with Fran Snyder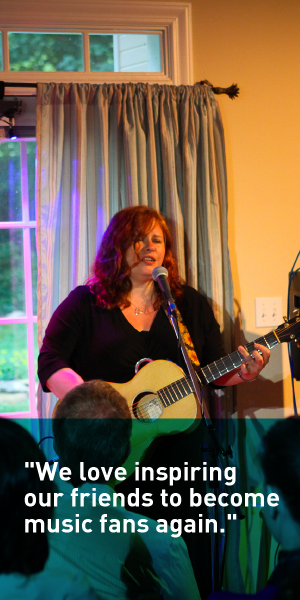 In late September through early November, Fran Snyder will be touring the southeast to meet with artists, hosts, and to put on workshops for any friends you'd like to inspire.
Aside from meeting the founder of ConcertsInYourHome, it's an opportunity to
network with other hosts in the region
learn some new hosting tips
inspire a friend to host shows for you.
Here is the current schedule.
Confirmed House Concert Workshops
9/26 Ft Myers, 1-3 pm
9/28 Palm Beach Gardens, 6:30-8pm
10/12 Charlotte, 6:30-8pm
10/19 Atlanta, 6:30-8pm
11/2 Jacksonville, 6:30-8pm
11/3 Orlando, 6:30-8pm
Fran is also looking to play house concerts along the way – check out his music at www.fransnyder.com
Would also like to add October workshops in Tallahassee, Sarasota, Gainesville, and Asheville. It'll be a nice get-together for experienced hosts, and a great primer for music fans who'd like to become hosts.
Email [email protected] if you'd like to attend or help organize an event with Fran Snyder. 
[youtube https://www.youtube.com/watch?v=DhitKEasykk&w=560&h=315]